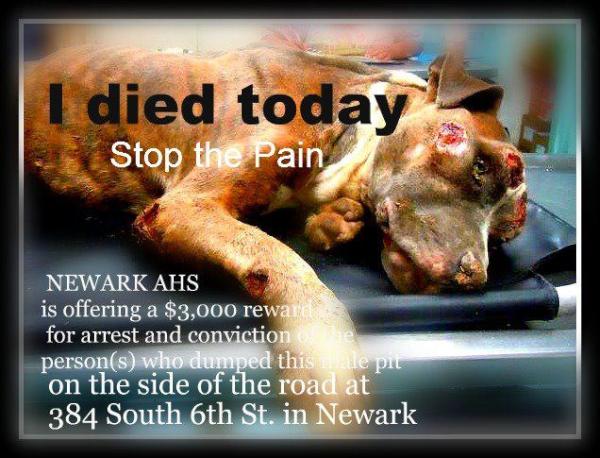 Please get involved… Someone almost always sees, hears or suspects something, whether it is animal, spousal, child, elder or any abuse situation but often look the other way or think it isn't their business or problem.  Torture, murder, and abuse are everyone's business and problem.
Join the fight and stop the pain, stop the killing, stop abuse of all kinds today!!
And if you know or hear anything about this situation… please contact Newark AHS
All states need inexpensive or free spay and neutering to stop this from happening.
All states, counties and communities need to relax their restrictions on the number of pets they allow.  If someone will adopt just one more pet… or two, why not let them???
We are not talking hoarding cats or pets, we are talking adoption of one or a few more to help ease the stress on shelter, stop anymore photos like the one below and to give pets a home with people who will love them and are willing and able to take care of them.
No more Euthanization of healthy or treatable pets and animals.  We need to stop this!!
Great Book for Children and Pet Lovers… And a Perfect Holiday Gift

One More Pet

Emily loves animals so much that she can't resist bringing them home. When a local farmer feels under the weather, she is only too eager to "feed the lambs, milk the cows and brush the rams." The farmer is so grateful for Emily's help that he gives her a giant egg... Can you guess what happens after that? The rhythmic verse begs to be read aloud, and the lively pictures will delight children as they watch Emily's collection of pets get bigger and bigger.

~~ 2000+ Dog Books And All Things Dog ~~

Buy Now: A Must Have For Every Pet Owner

Every Dog's Legal Guide: A Must-have Book for Your Owner

Archives

If You Were Stranded On An Island…

A recent national survey revealed just how much Americans love their companion animals. When respondents were asked whether they'd like to spend life stranded on a deserted island with either their spouse or their pet, over 60% said they would prefer their dog or cat for companionship!

June 2020
M
T
W
T
F
S
S
1
2
3
4
5
6
7
8
9
10
11
12
13
14
15
16
17
18
19
20
21
22
23
24
25
26
27
28
29
30