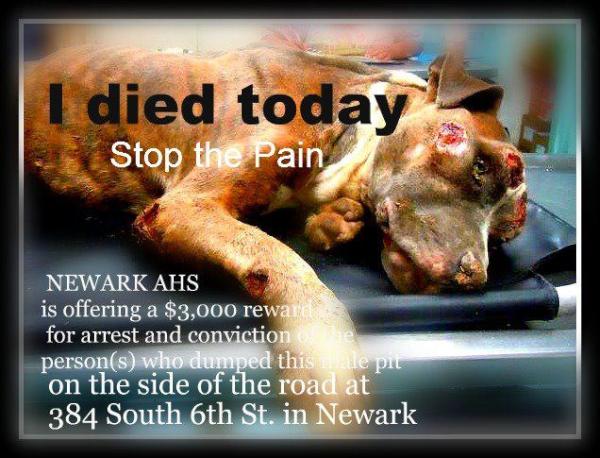 Please get involved… Someone almost always sees, hears or suspects something, whether it is animal, spousal, child, elder or any abuse situation but often look the other way or think it isn't their business or problem.  Torture, murder, and abuse are everyone's business and problem.
Join the fight and stop the pain, stop the killing, stop abuse of all kinds today!!
And if you know or hear anything about this situation… please contact Newark AHS
August 15, 2010 – 1:43 PM | by: Peter Doocy
In the wake of the BP disaster in the gulf region, many people are being forced to give up their pets because they no longer have the resources to take care of them.  As a result, shelters in the area are overwhelmed, and are now sending dogs to other states in an effort to save their lives.  "Its kind of sad and our heart kind of breaks, because you can tell these people really love their pets," said Charlotte Bass-Lilly with Animal Rescue New Orleans.  "It's kind of shades of Katrina again."
This week, the largest pet transport so far took place: 94 dogs to eight shelters in New Jersey.  Some of them landed at St. Hubert's Animal Welfare Center in Madison, New Jersey, and they are some of the Garden State's most popular new residents.  "The community support and outpouring for them has just been incredible.  It was kind of like a bar on St. Patrick's Day, and we had 20 in and 20 out, because we had so many people waiting to see them."
Debbie and Andrew Silberstein brought their kids Zachary and Noah to St. Huberts today, where they adopted Sasha Bee, who just last week lived in a completely different part of the country.
Mom Debbie sympathizes with those forced to part ways with their pets.  "It's very sad that these people had to do that and we feel sorry," she said.  "But they should know that we'll give this dog lots of love and attention and we'll really love her like part of our family."
The dogs here at St. Huberts have been through a lot since the explosion on the Deepwater Horizon rig.  One dog, Casper, was surrendered to a New Orleans shelter because his owner started working with BP to clean up oil, and no longer had the time to take care of him.  Another dog, Yoda, is here because his owner was forced to downsize to an apartment that did not accept animals.
The dogs were squeezed onto a big rig operated by the Humane Society, and with two drivers, made the trip from the bayou to a suburb of the Big Apple in 18 hours.
The most striking thing about seeing these canines up close is that they are all very good looking, and very well behaved.  These aren't dogs from the street.  Until recently, they were members of families.  And anyone that rescues one of these dogs will be doing a great service to those distressed families in the gulf: ensuring that the pet they love finds a loving new owner.
If you are interested in rescuing one of these resilient animals, go to www.petfinder.com, or www.sthuberts.or
I am absolutely against government bailouts and the stimulus (I,II, or whatever number we are one now), but if we are going to spend this money and spend it on bridges to nowhere, an airport only used by one of our cheating U.S. Senators and send billions of our TARP money to European banks… there should never be a need or incident of another pet/animal being euthanized because "we" couldn't wait to find them a home or take care of them.  Demand No More Killing of Pets… and some of that bailout money that lined the fat cats' pockets to go to animals.  There should also never be a shortage of many of children's homes and abused or abandoned children.  Let us stand up and stop the insanity!!  There is $421 billion dollars unaccounted for and leftover from the "crisis created" stimulus I Bill.  Now about some of that goes to homeless and abused children and pets/animals instead of politicians and International bankers?
Posted:  Just One More Pet
Liberty Humane Society officials are calling it their version of "Obamacare" — but for pets.
The Jersey City shelter is opening a low-cost Wellness Clinic tomorrow, which will be open every Thursday, 5 to 8 p.m., shelter officials said.
"Almost every day someone comes into the center to surrender or euthanize an animal because they can't afford a vet bill," Executive Director Joanna Hopkinson said. "We try to do as much as we can to help them."
The clinic will offer low-cost rabies, distemper, Bordatella, Lyme and FeLV vaccinations for $20 each.
Wellness tests, which check for Lyme disease and heartworm among other things, will be offered for $30 for cats and dogs.
The clinic will offer $35 micro-chipping and $15 nail clipping.
The clinic will be limited to routine preventative services.
"We are delighted to be an affordable and easily accessible resource for the area's pet owners," Director of Development Janet Russell said. "We realize that the proper care of an animal can be expensive and want to provide an affordable option for wellness care."
Low-cost spay and neutering for dogs and cats is also available and costs an average of $85 but varies depending on the size of the animal. Appoints are necessary.
The clinic will be held in the mobile spay/neuter vet unit outside the shelter at 235 Jersey City Blvd., across from Liberty Science Center.
For information call (201) 546-4147 or visit www.libertyhumane.org.
Posted:  Just One More Pet
Great Book for Children and Pet Lovers… And a Perfect Holiday Gift

One More Pet

Emily loves animals so much that she can't resist bringing them home. When a local farmer feels under the weather, she is only too eager to "feed the lambs, milk the cows and brush the rams." The farmer is so grateful for Emily's help that he gives her a giant egg... Can you guess what happens after that? The rhythmic verse begs to be read aloud, and the lively pictures will delight children as they watch Emily's collection of pets get bigger and bigger.

~~ 2000+ Dog Books And All Things Dog ~~

Buy Now: A Must Have For Every Pet Owner

Every Dog's Legal Guide: A Must-have Book for Your Owner

Archives

If You Were Stranded On An Island…

A recent national survey revealed just how much Americans love their companion animals. When respondents were asked whether they'd like to spend life stranded on a deserted island with either their spouse or their pet, over 60% said they would prefer their dog or cat for companionship!

January 2021
M
T
W
T
F
S
S
1
2
3
4
5
6
7
8
9
10
11
12
13
14
15
16
17
18
19
20
21
22
23
24
25
26
27
28
29
30
31